Teasers



| | | |
| --- | --- | --- |
| 1 | 2 | 3 |
| | | |
| 4 | 5 | 6 |
| | | |
| 7 | 8 | 9 |
| | | |
| 10 | 11 | 12 |
| | | |
| 13 | 14 | 15 |
| | | |
| 16 | 17 | 18 |
| | | |
| 19 | 20 | 21 |
| | | |
| 22 | 23 | 24 |
| | | |
| 25 | 26 | 27 |
| | | |
| 28 | 29 | 30 |
| | | |
| 31 | 32 | 33 |
| | | |
| 34 | 35 | 36 |
| | | |
| 37 | 38 | 39 |
| | | |
| 40 | 41 | 42 |
| | | |
| 43 | 44 | 45 |
| | | |
| 46 | 47 | 48 |
| | | |
| 49 | 50 | 51 |
| | | |
A.

B.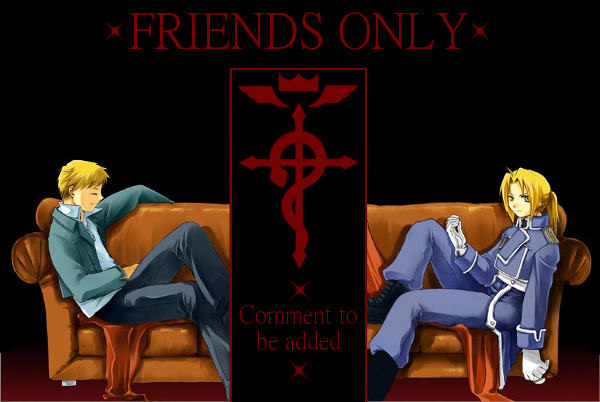 Full-size
C.


800x600
1024x768
1240x1024


Rules:

-Comments will be rewarded with sexy time love and huggles!
-Credit, kplzthnx
-No hotlinking, RAWR! )<
-Textless icon does not a base make.

[x] 1-35 FMA:B screencaps by
moogledaime
[x] 36-48 Blue Bird's Illusion
[x] 49 Official art
[x] 50** Conqueror Of Shamballa
[x] A. unkown fanart; yours and you want it gone, I'll delete it.
[x] B.-C. Blue Bird's Illusion
[x] C. Lyrics from "You Remind Me" by Moist.

** #50 won 2nd place at
fmadesignawards for week 116, "Hologram Lyrics"